The Potatoes Team
Who are we and how we took on this amazing project adventure...
Hello, my name is Alison Palmer. I am a sophomore at Olin College of Engineering majoring in Mechanical Engineering. My goal for this project was to improve my knowledge and execution skills of mechanical systems.

My favorite part of this class was the no-inhibitions ideation sessions at the beginning. It was fun and rewarding to take one of those ideas and bring it to the world. During the duration of this project, I learned how to work with people from different backgrounds and different skill sets. From this, I also learned how to re-orient our work towards the end goal of the project.
---
Hi, my name is Leo Liu. I am a cross-registering student from Babson College. My favorite part of POE is that we can truly see how engineering works in the real world, figuring out ways to integrate mechanical, electrical, and software system into one coherent entity.

This class allows us to try different things. While the result is exciting, the process itself is more rewarding. We succeed in certain things and fail many times along the way. Throughout the process, we learn from the mistakes we make. Most importantly, we also learn how to work in a team that is full of talented, and fun people.
---
Hi, I am Richard Ballaux and I am an exchange student at Olin College from Belgium at the time I am writing this. I took this class because since I was a kid I wanted to be an inventor and this class is by far the best way to get there. It really teaches you all the different principles of engineering. Also the ones that you don't think of beforehand like tolerance.

What I liked most about the our final Pandora project was dealing with unexpected integration errors that you can only experience when building something by yourself totally from scratch. Another thing I really enjoyed was the manual manufacturing, we assembled 100 blocks all consisting of 7 different pieces.
---
Hi, my name is Vienna Scheyer. I am a sophomore at Olin College studying Electrical and Computer Engineering. My goals for this project were to learn about electrical, mechanical, and software integration and to get experience with coding a mechanically actuated system.

This class taught me a lot about the process of designing a system for manufacturing, and it was a fun challenge to programatically calibrate the 20 servos in the physical system. I enjoyed working with people from different backgrounds and putting our skill sets together.
---
How did our team manage this project?
---Through Religious Use Of Trello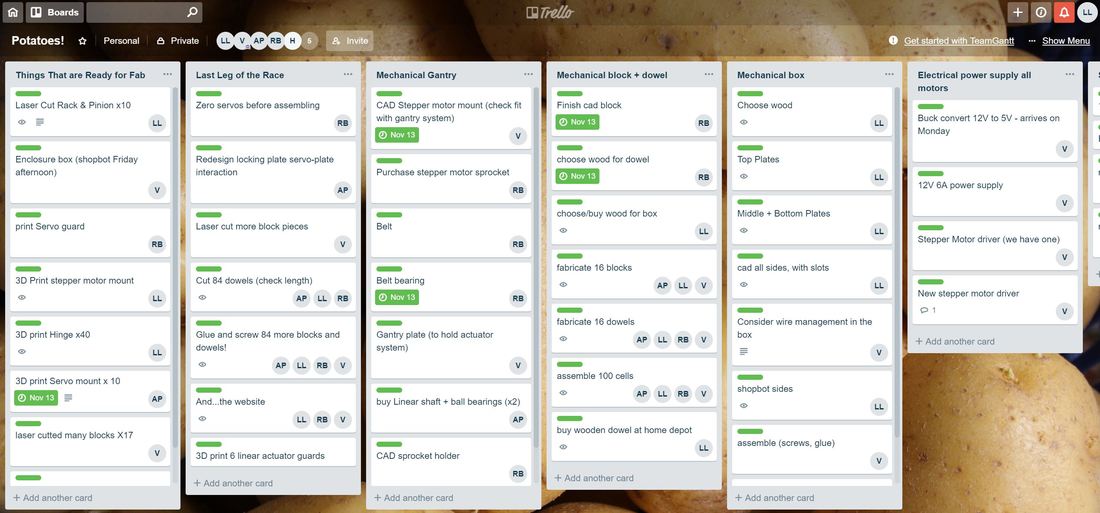 The Journey along the way