The main algorithm used by the CrabBots to react to light is shown below. Initially, every photodiode is calibrated to the ambient conditions of the room. The difference between the current reading and the ambient reading is found for each photodiode -- this difference is used to calculate the motor speeds for that time step. This algorithm is used by the robots whether they're reacting to the stationary beacons or to each other.

There are two main programs that can be loaded onto the final CrabBots: the "chased" program, and the "chasing" program, which correspond to the Bot's role in freeze tag. All code for the robots was written in Arduino.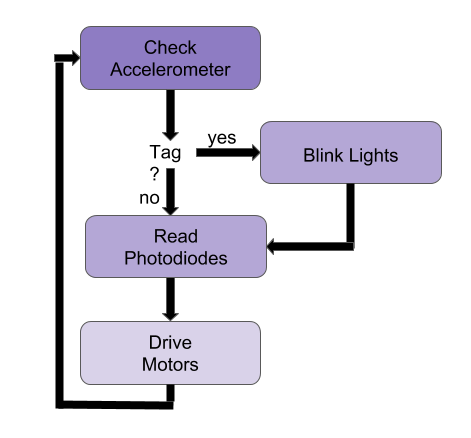 Chasing
The Chasing robot is the equivalent of "it" in our game of tag. It illuminates itself blue and seeks out red light. When it successfully tags a Chased robot, signified by a spike in the acceleration measured by the accelerometer, it flashes its lights to celebrate its victory. Then, it continues seeking out more red robots to chase. The flow diagram shows how the software handles all of these states.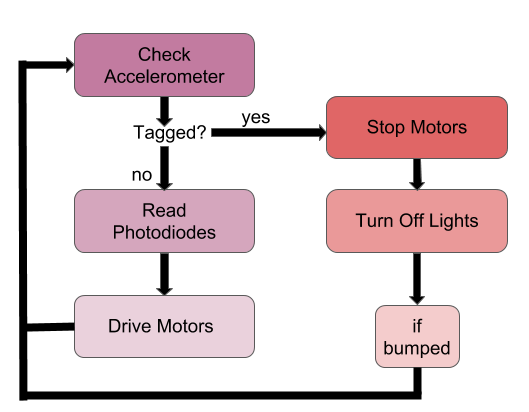 Chased
The Chased robot is the equivalent of any "not it" player in our game of tag. These robots are illuminated red and are repelled by the blue light of the Chasing robots. When they're bumped by the Chasing robot, they stop in their tracks and shut off their lights, indicating that they've been frozen. A human can help a frozen robot rejoin the game by tapping it.
The beacons were also programmed in Arduino, and used a simple program that toggled the color of a strip of LEDs between red, blue, and off with the press of a button.
All of the code for our project can be found here.